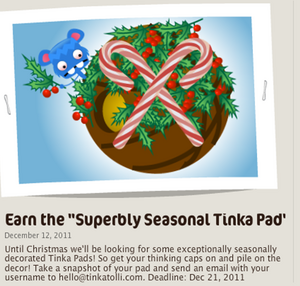 Superbly Seasonal Christmas Pads was a contest in December 2011, and maybe in the next few years to come. The contest involved tinkas making their tinkapads christmasy and entering the competition. Anyone who the staff thought had really put an effort in would get the badge. There would be more than 1 winner each time. The winner gets a seperate badge from the regular tinkapad of the week. People who already won Tinkapad of the week could still enter.
2011 was the first time there was a Superbly Seasonal Christmas Pads contest. It was announced on twitter on December 7 2011, but an official ad was placed in the tinkazette on December 12 2011.
The deadline for entering was December 21 2011. The results were posted on 21/12/2011. There were 31 winners. They are as follows:
Tipski
Mexboy
Mysweety
Veggie master
Josh
Carrotnoise
Yawn2
Joelle
Dukster
Bobbycool3
Loki Terry
Lokiterryknm
Mikep01
Journey
iDylan
Tomironi
Cookiemonster
iMaker
Amyy
Icycold1
Fentonh
Amy1995
Chey6767
Solsolsol9
Lefty7788
Cyberkid97
Labob
Knm
Cherry
Jimberson
TheTinka
Community content is available under
CC-BY-SA
unless otherwise noted.